A couple of months ago I decided that I'm going to recycle more and reduce the amount of waste that we throw away. I started to save all of our boxes, cereals and plastic containers and reuse them in a creative way
This tutorial is to show you how you can transfer an ordinary carton cookie box into a shadow box.
You'll need:
2 boxes of cookies/Cereals, one larger than the other
Masking tape
Mod podge/ other liquid glues are ok too
A brush to applicate the glue
Pen
Scissors
Papers to coat the box
Step 1
Reinforce all the sided and corners of the box with the masking tape.
Step 2
Mark along one side of the box a triangle in a distance of about 1/2 inch from the edges all around. keep the triangle you cut out we will use it in a minute.
Step 3
Reinforce the insides of the box with the masking tape.
Step 4
Place the glue with your brush and adhere the papers to the box. this is the place to start being creative. you can make a collage or use whole sheets for this.
Step 5
Take on side of the larger box and cut it so you'll end up with one side and trace the smaller rectangle you previously cut out.
Step 6
Create your shape inside the rectangle and cut it out. Make sure to stay in the rectangle so the margins won't show later.
Step 7
adhere the panel to the margins and coat it with paper.
That's it! your'e done!
You can embellish the shadow box or leave it as it is and use it as a storage lace or for display.
Link parties galore: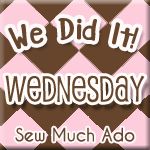 Thanks for stopping by!